We Take Your Privacy and Security Seriously
This site is continually scanned and protected from malware attacks, hackers, and viruses with the same high level of security that we offer our customers with the Professional UpKeep Service Plan.  This ensures that there is no chance of intrusion into our servers, so that your data is protected.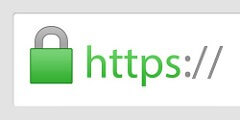 SSL Encryption of All Form Data
Any information you enter into the forms on this website (passwords, usernames, credit card info etc) are immediately encrypted while they travel from you to us. This prevents any eavesdroppers from accessing this sensitive data. In your browser address bar you should see the lock which signifies this encryption is active.
Last Updated June 6th, 2016
Our Commitment to Privacy
Your privacy is important to us. To better protect your privacy, we provide this notice explaining our online information practices and the choices you can make about the way your information is collected and used.
The Information We Collect
This notice applies to all information collected or submitted on the Hog The Web website, or with our team through email, phone, or other mediums.
On some pages, you can order services, make requests, and register to receive information. The types of personal information collected at these pages are: Name, Address, Phone, Credit Card, E-Mail Address, etc.
On some pages, you will submit information about your website or other accounts login credentials (web host login, for example).
We hold this information to the highest regard in terms of security. With that in mind we do not post information about how we handle this information, but you can rest assured we exhaust all efforts to keep this information secure.
The Way We Use Information
We use the information you provide about yourself, website details, and web host details when placing an order for service and when completing requests.
We do not share this information with outside parties except to the extent necessary to complete that service.
For example, we share your e-mail and public website address with Sucuri Security when you are signed up for their service.
You can find their privacy policy at: http://sucuri.net/privacy-policy
Terms of Service
You can view our Terms of Service which determines any usage, disclaimers, limitations and liabilities.
Consent
By subscribing to any of our services or products you are consenting to our privacy policy.
Changes
While we do not expect to change our privacy policy, if we do you can find any changes or updates on this page.
You will also find the date of last update to the privacy policy at the very top of this page.
The location of this page is: https://hogtheweb.com/privacy-policy/
Questions?
If you have questions about our privacy policy please contact us immediately so we can field your question and alleviate any concerns you may have.
You may contact us at HogTheWeb@gmail.com or through our Contact Form.