Watch the Video:
Hey there, I'm Levi with Hog the Web.  Today I want to share a couple of quick tricks on how you can get a sense of the demand for a specific product or service within your service region.  These tips are going to be useful to you if you're considering starting a business and want to get an idea of the market demand in your area.  Or maybe you already have a business, and you're wondering if there might be a segment of your market that you haven't really tapped into yet.
Ready to unlock the potential of your local market?

Let our experts help you

gauge the demand for your product or service and reach new customers!
Are You Considering Search Engine Optimization (SEO)?
These tips might be useful if you're considering Search Engine Optimization or SEO for your company but you're not sure if it's really going to be worth it.  The overall trend is that consumers are using the web more and more to find local businesses.  So even if SEO isn't appropriate for you, most businesses today can't afford just to be oblivious to it.  That is the angle I'm tackling this question from because at Hog the Web, one of our specialties is SEO.  Anytime a client comes to us wanting to know if we can do SEO for them, it's really important that we get a sense of how much demand is out there to see whether it's really going to be worthwhile for them.
These techniques that I'm going to show are useful to anyone who wants just to get a sense of the size of demand in their area.
Understanding Keywords & Research
Coming from an SEO background, we rely on what's called keyword research to get a sense of the market size.  A keyword is basically any type of search query or question that people might type into search engines.  So we can look at not only what they're asking but we can look at how many times certain keywords are being searched for within an area to get an idea of how much demand there is for those specific services.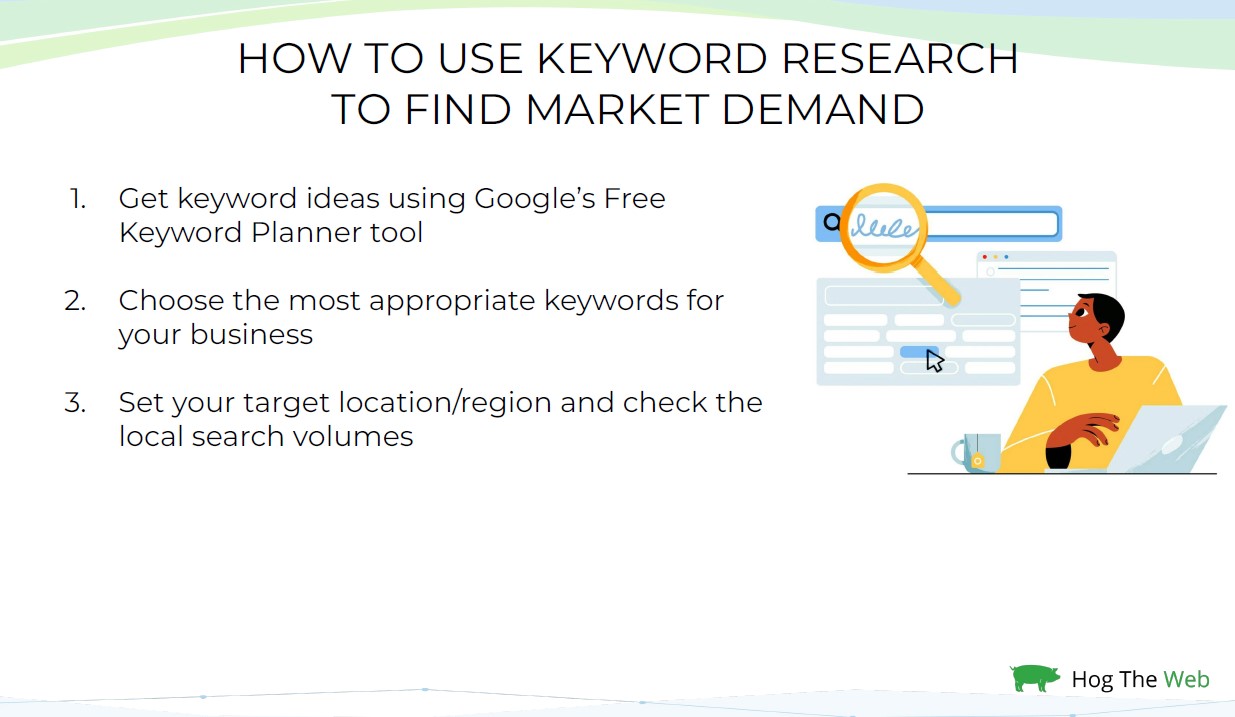 So, for instance, if you provide House Painting Services, you can get a rough idea of how much demand there is by seeing how often people in your area search for things like House Painting Services in Chicago, Illinois.
How to Use Google Keyword Planner
So let's walk through an example.  The first thing to do is to pull up Google's free keyword planner tool.  You might need to create a Google AdWords account to get access to this tool, but you don't have to run any ads.  It's free to use once you have an account.  Once you're logged in, you'll go to tools and settings.  If you look under planning, you'll find the keyword planner right here.

Once you open that up, choose the option to discover new keywords.  This is where you'll start typing in different search terms that you think your customers might type in to find your business.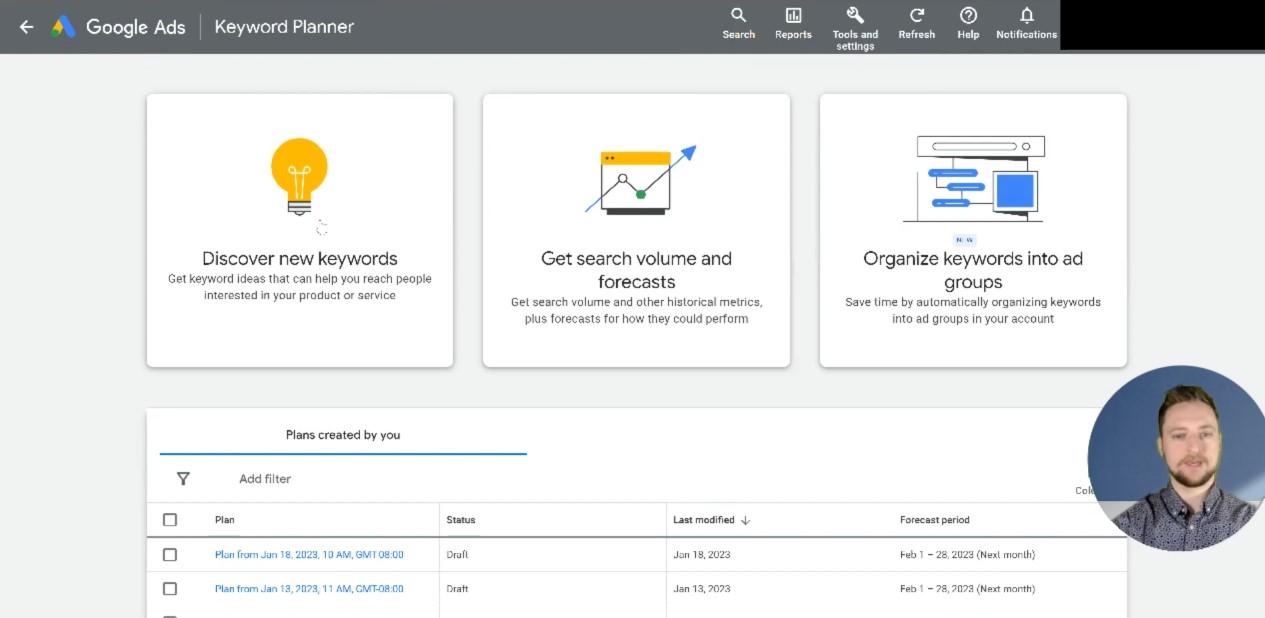 So again, for this example, we'll type House Painting Services.  For now, let's leave all the other settings the same and click get results.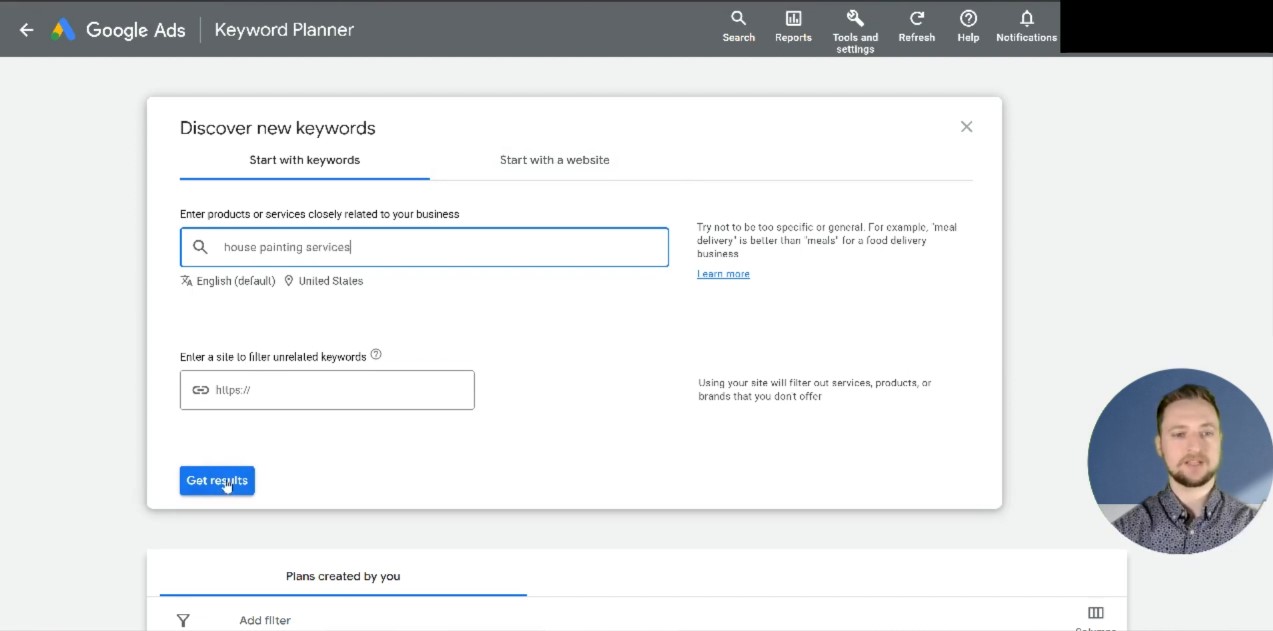 This is going to generate all sorts of different keywords that people are actually using.  And what's really cool is it is showing you the average monthly searches right here.
Now we're going to narrow it down to your specific region.  So, where it says in the United States here, you can click that pen.  And now we're going to say maybe we want to do Las Vegas.  There we go.  So now I'm going to click target here.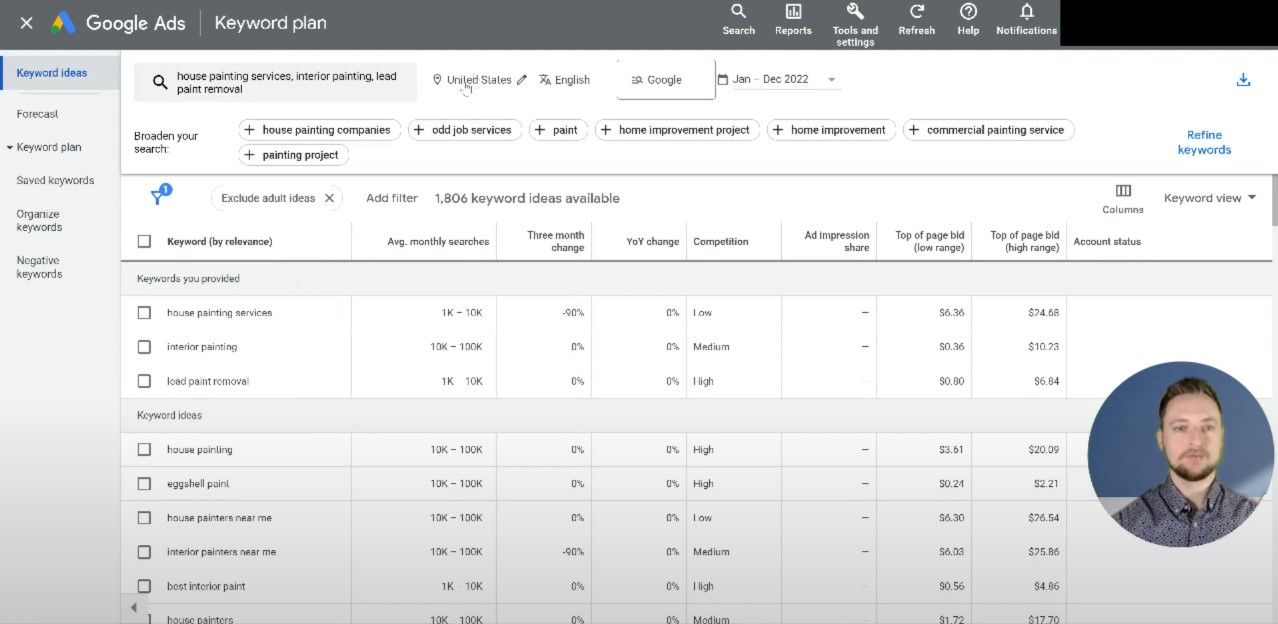 And then now I want to make sure I remove the general United States region so that we do not include the 322 million users there.  So you even got a sense of the reach, which is roughly how many people you're targeting in that area in total.
Viewing the Search Results
Now it will update these results, specifically the average monthly searches, based on that targeted region.  Okay, there we go.  Yeah, as you can see, it generated 1800 different keyword ideas already.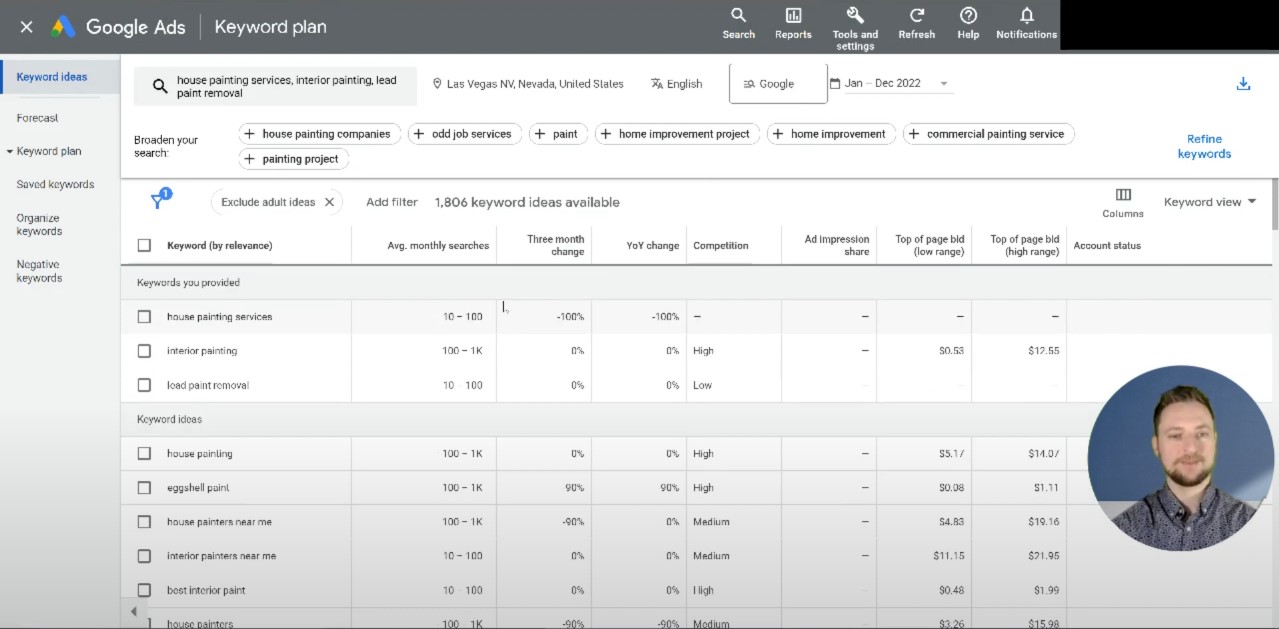 This could take a long time to go through and do a really good in-depth job.  That's something we do for all our new SEO clients.  But for now, we'll pick up a handful of these just to get a general idea.  Now, as you can see, with some of these keywords, it looks like more people are researching paint rather than looking for a painting service.
So the main thing to focus on here is to read the keyword and try to get a sense of the user's intention.  What are they really looking for?  Are they in the market for House Painting Services, or are they more of a DIY person?  Maybe they're even a painting company themselves and just looking for some information.  So, for instance, the best white paint for interior walls may or may not be someone who's actually looking for a painter.  I would say probably not; that probably wouldn't be the best keyword to target or prioritize.  But, cost to paint a room actually would be a better keyword to target.  Now, it's not likely that you'd have a whole page on your website that talks about the cost of painting a room.  This is where blogging really comes in for SEO because you could write a blog article that talks about how to estimate the cost to paint a room, and that blog article could rank for a keyword like this in your area and help bring in some of this business.
Gathering Ideas for Demand
Now, this is also where you can start getting some ideas for other related demands or segments of demand that are related to your business.  Gather enough ideas so that it will be easy for you to start offering that service and tap into that market.  So, for example, lead paint removal cost.  So once you've selected some, you're going to click add keywords to plan.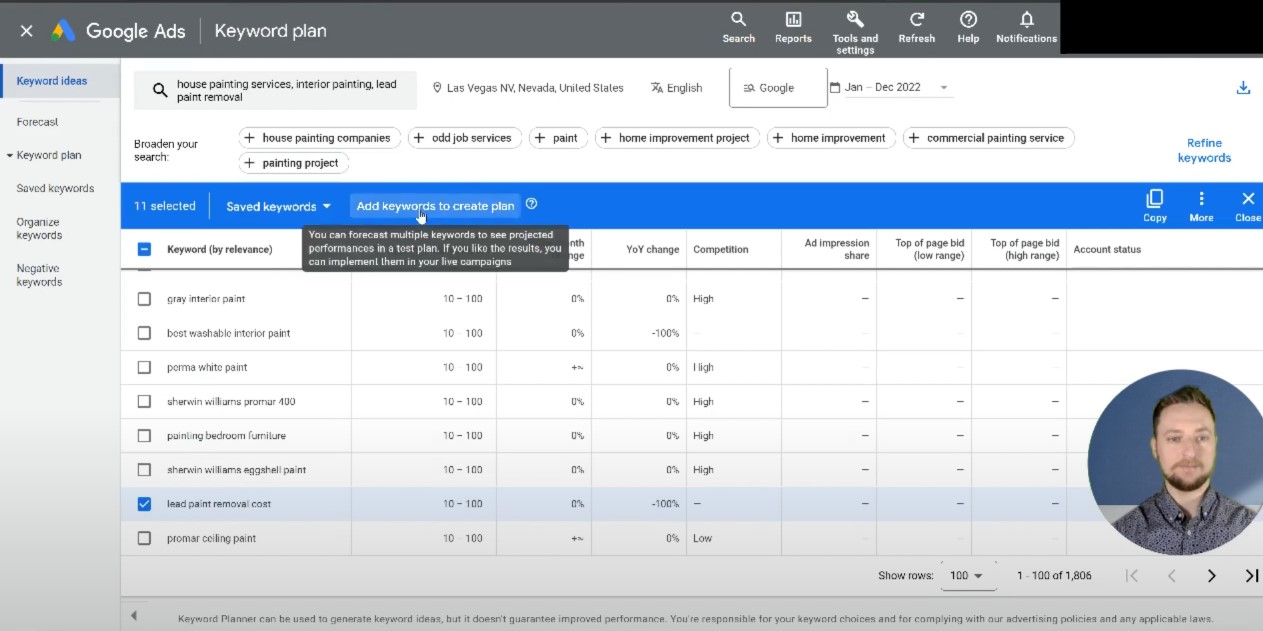 Once you've made your way over to saved keywords, double-check and ensure your target region is still set correctly; then, you'll click this icon in the right corner to download the list.
Downloading & Brainstorming Keyword Ideas
I like to use Google Sheets, but if you prefer Excel, you can click the CSV file and choose where to put it on your Google Drive.
While you're waiting for it to download, maybe twiddle your thumbs while it's thinking.  Then pay attention down here at the bottom of the screen; you can click open sheet.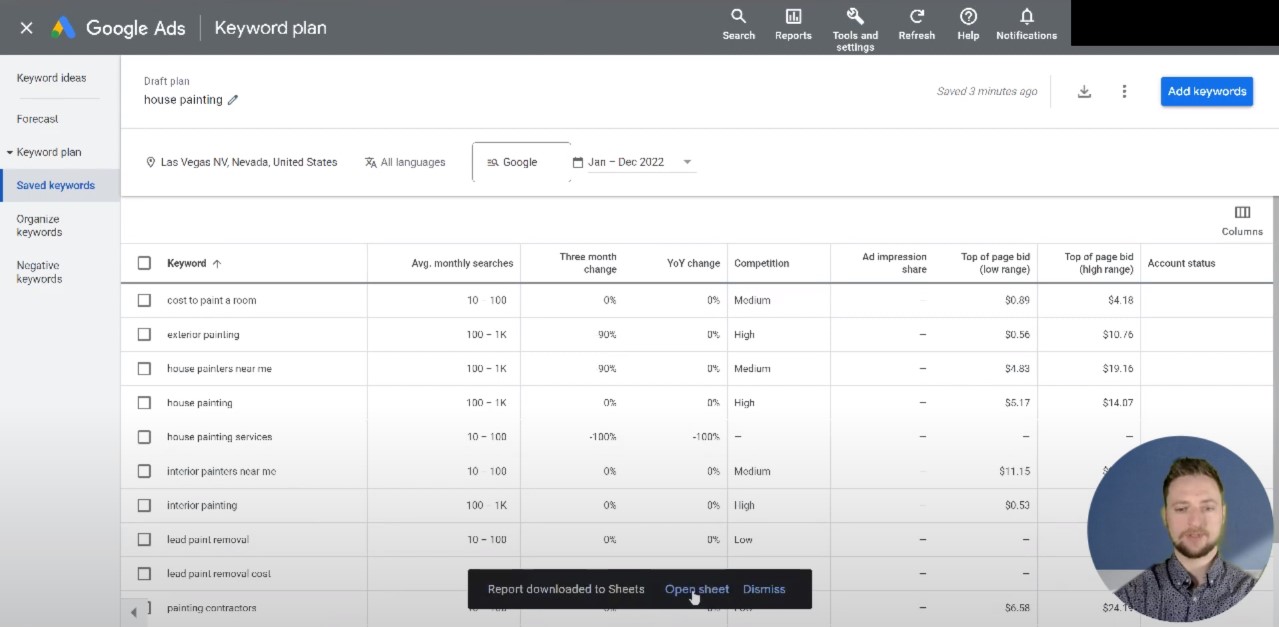 I would like to expand this first column to see the complete keyword.  The main thing I'm looking at here is the average monthly searches.  As you can see, it's still focused on our target area.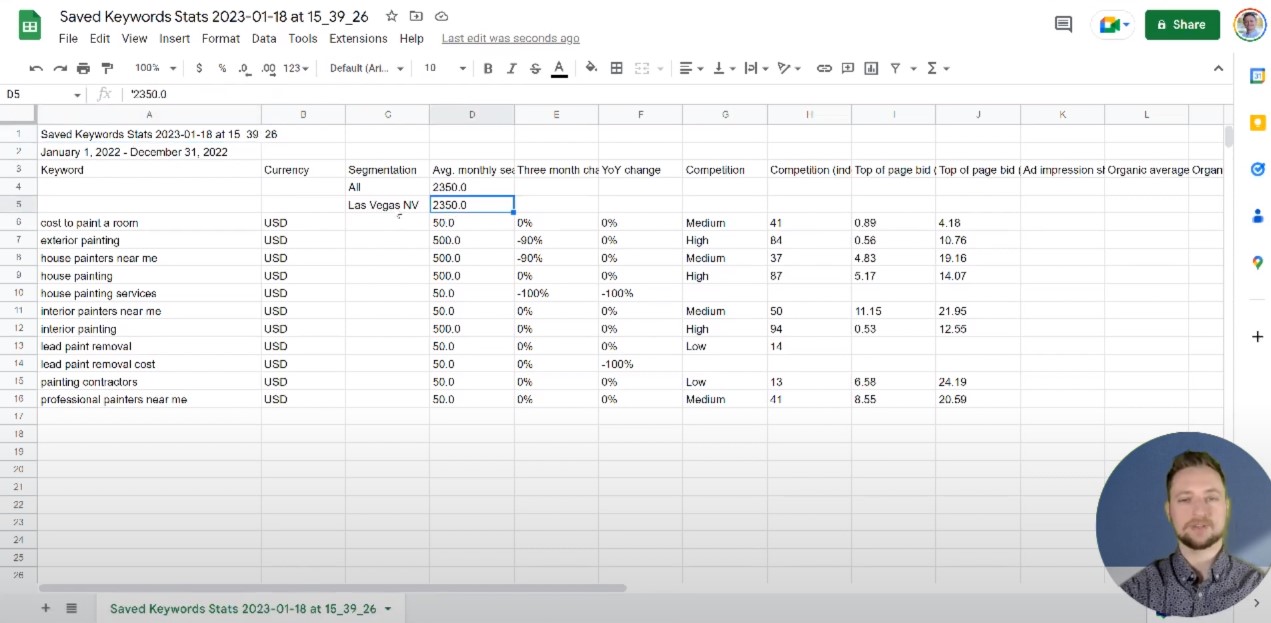 So with these ten or so keywords, that's 2300 or so searches per month or around 80 searches per day.  This technique can give you a general sense of the demand for specific services and products within your region.
Effective Results
Over the course of a year, we targeted some specific keywords that you see listed here for one of our clients.  You can see the old position that they were in; they were the eighth organic result in a Google search for that keyword.
Then, after a year of our SEO services, they were able to get to the number one position and gain the majority of that search traffic.  As you probably know, most users won't scroll very far down the results page; almost all users will tend to click on one of those top few results.  You can also see their overall website traffic from search engines organic search traffic from search engines.  Over the course of the year, we were able almost to double it.
This is an example of what you can do when you put all this together.  You can use this granular understanding of your market's demand within a certain region and target that demand and even specific search terms or keywords.  If you want to learn A to Z how to achieve these results yourself, then check out our masterclass on hogtheweb.com.  If you're confused about any of this, feel free to reach out to Hog The Web.  We're always happy to help answer questions and lend our expertise.  I hope you learned something today.  Take care.