WordPress and Amazon are powerful platforms that make it easy to sell products online.
However, they differ in approach, and each one has its pros and cons. If you learn how to integrate WordPress with Amazon, you can get the most out of both platforms and sell more products.
Do not create a store on each platform and then hope for the best. Instead, you want to define the most effective integration to maximize your earning potential.
Photo By LaunchPresso
For example, you may want to use Amazon to monetize your WordPress messages by using affiliate links. Or, if you already sell your products, you can synchronize your WooCommerce store with Amazon for even greater visibility.
Let's dig into how to combine WordPress and Amazon. After that we will teach you two ways to achieve this.
You might also like: The Pros (And Con) Of Using WordPress For Ecommerce.
How to Integrate WordPress with Amazon
Before we dive in – note that these methods are not the only way to get WordPress and Amazon to work together. However, they are great examples of what you can do with some work and the correct plugins.
Let's start with the most straightforward integration.
1. Add Affiliate Links to Your WordPress Posts
By subscribing to the Amazon Affiliate Program, you get a unique ID. You can use this ID to create links, banners, and widgets for your website. Every time a visitor clicks on a link to buy something, you get a commission. It's that simple.
Your visitors don't have to buy the products you link them to Amazon with for you to make money. Therefore, if they buy something — anything — after clicking on a link associated with your account, you get a share of that sale.
The problem is that a content-rich affiliate blog can send users to dozens, if not hundreds, of products. By default, you must generate and add links to each product, which can get out of hand quickly.
This is where the Amazon Auto Links plugin appears:
This simple tool allows you to create sections that contain links to products that your audience may like. Overall, it is based on Amazon's current ratings and the categories you choose.
First, install and activate the plugin. Next, find the new Amazon Auto Links tab on the toolbar. After that, click on Manage Units → Add Unit by Category:
By "unit," the plugin means an advertising section. This section will display certain types of products. Select a name for your new section and be sure to enter your Amazon Associate ID.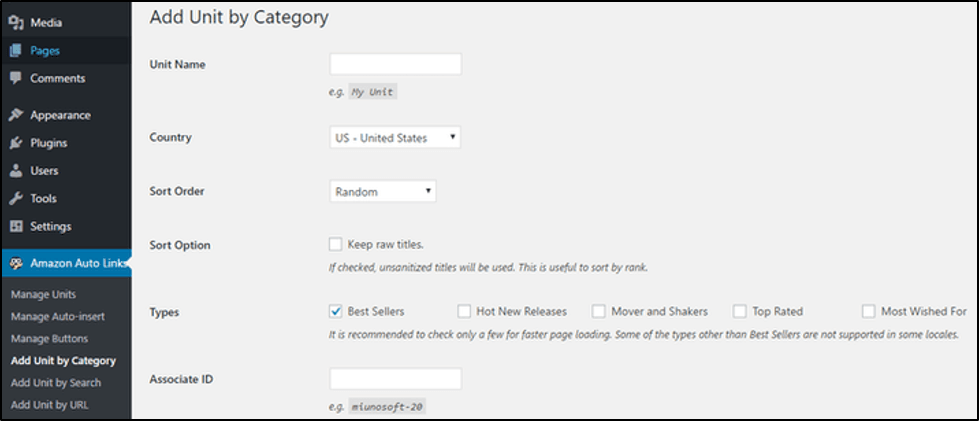 The rest of the settings are evident here. Select your options and don't forget to enable the automatic insertion option (we will talk about this later).
When you are done – click "Proceed." On the next screen, you'll need to select the category of products you want your section to display.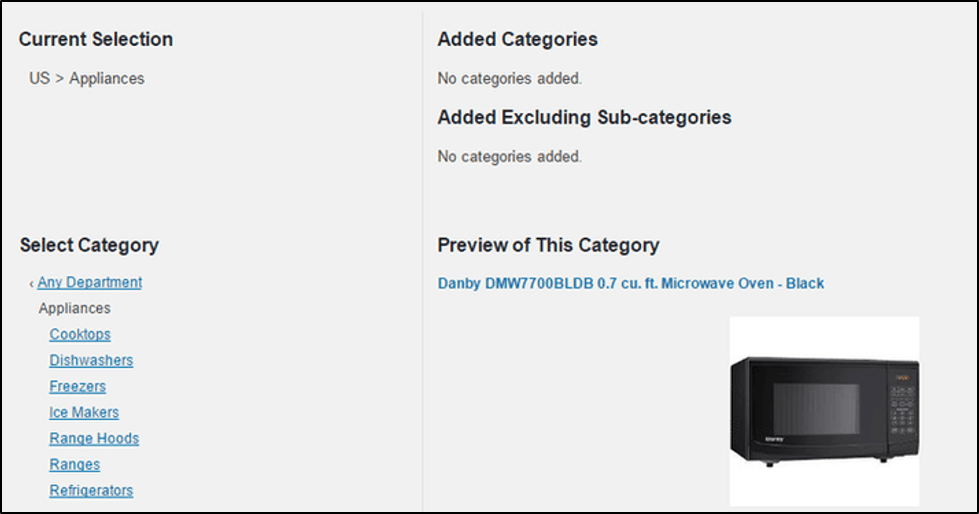 Once you find the desired entry, click "Add Category." Keep in mind that you can add several categories to each unit if you wish. Next, click the "Create" button to complete this step.
Remember when we told you to keep the "Auto Insert" option enabled? By default, your new block will be placed under the content of your posts and pages. However, you can customize its display options by going to Amazon Auto Links → Manage Auto Insert and clicking the "Edit" option for the section you want to customize.
Look for a section called, "Where to Enable" — this determines where to display the unit.
If you need more control over display settings, you can use shortcuts. For more information on how to do this, refer to the WordPress plugin home page for more detailed instructions.
2. Publish your WooCommerce products on Amazon
To get the most out of the integration, you need to have a WooCommerce store already configured. WooCommerce is one of the most popular e-commerce plugins for WordPress.
After all, the goal here is to:
● use WordPress to push users to Amazon,
● or list your products on both platforms.
Let's learn how to use "WP-Lister Lite for Amazon" to connect your WooCommerce store to Amazon.
First, install and activate the plugin.

Once the plugin is configured, you will need to connect your Amazon account to your WordPress site. To do this, go to the Amazon tab in WordPress and find "Settings" → "Account" on the screen. Select which Amazon store you have registered with (Amazon US, UK, etc.) and follow the instructions to complete the connection process.
After that, go to the "Categories" tab in the Settings section. Enable the categories that you are authorized to sell on Amazon. Keep in mind that some categories require prior approval from Amazon.
Once you are satisfied then save and you are ready to go. Now you can:
● compare your WooCommerce products with existing ones on Amazon
● or publish them yourself.
To check prices with your competitors, you can get an Amazon repricer (I like sellersnap.io). This a software solution that automatically changes the price of an item you sell on Amazon. For instance, an Amazon repricer can make automatic price changes to help you achieve your business goals: gaining more Buy Box share, liquidating your inventory, etc.
To Sum it Up
In conclusion, the versatility of WordPress makes it ideal for integration with other platforms and Amazon is no exception. Using a plugin or two, you can connect to a vast audience and use it to monetize your blog or manage sales on both platforms, directly from WordPress.
You might also like: 25 Most Stable & Reliable WordPress Themes of 2019 (and 6 to Avoid!)